I'm over 18 months working as the in-store Nutritionist for SuperValu Clane and the range of products in their Health & Wellness and Food Academy section just continues to grow.
With food intolerance's & allergies increasing and people becoming more health conscious, it is great to have such a huge selection of alternative foods in SuperValu which previously were only found in health food stores.
Here are some of the products I bought this week.  They have become cupboard staples now!
Leaves Buckwheat & Chickpea Pasta
This is a relatively new pasta made from chickpea and buckwheat making it not just wheat and gluten free a great source of protein.  It is rich in minerals such as Iron, Manganese, Copper and Magnesium and is high in Vitamin B6.
As each serving contains 16g of protein, it is Low GL, which helps to keep your blood sugars balanced.
Serving Suggestion: Hot or cold, mix the (cooked) pasta with a good dollop of hummus, a handful of spinach and olives and stir!  Perfect for lunch or dinner.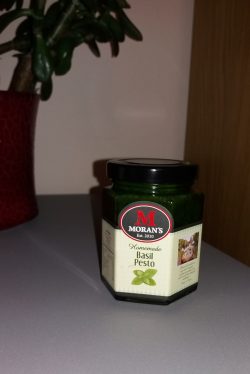 Morans Spinach & Basil Pesto
Another product from the Food Academy, this pesto is not just delicious but dairy and nut free.
Serving Suggestion: I use it instead of tomato puree on my quinoa pizza base but it's delicious on crackers and pasta too.
Meridian Peanut Butter
Meridian have a number of nut butters (peanut, almond & cashew) all made from just the nut unlike most of the peanut butters which contain palm oil, sugar and salt.  This is 100% peanuts.  Crunchy or smooth, this is a big hit in our house and my children love it on their toast or oatcakes.
Serving Suggestion: 2 oatcakes or an apple with this peanut butter make for a delicious snack! Or as a breakfast treat, why not spread some on your almond pancakes instead of syrup!
The products above are foods I use and enjoy eating!! I'm not paid by any of the companies to mention them, I just want to share my findings on new and delicious foods with you!